Junior Tennis
2023 Junior Tennis Program
June 12th - August 17th

Click here for more information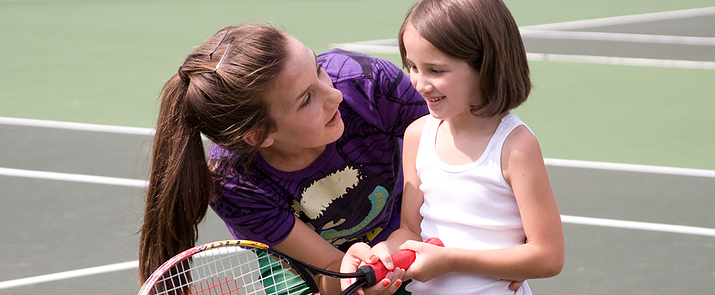 What is QuickStart?
It is an exciting new play format for learning tennis, designed to bring kids into the game by utilizing specialized equipment, shorter court dimensions, and modified scoring, all tailored to their age, size, and ability. By sizing the equipment (balls, rackets, and net height) students can quickly develop strong tennis skills.

QuickStart Tiny Tots (ages 3 & 4)
Your child's first tennis experience establishes a foundation for hand-eye coordination, basic tennis movement and athletic tennis skills. It's a fun-filled introduction to the great lifetime sport of tennis.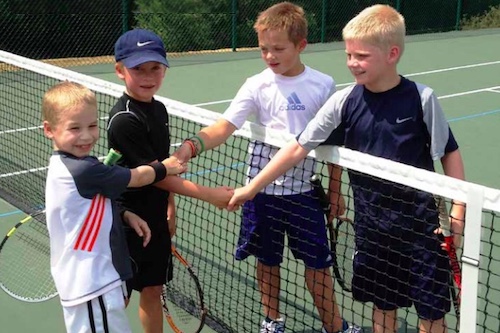 QuickStart 1 (ages 5 - 8)
A focus on introducing rallying skills and the beginning stages of cooperative tennis. Students will learn to initiate a rally, move and judge ball flight and achieve better racquet control.




QuickStart 2 (ages 9 & 10)
Students learn basic tactics and athletic skills while developing social skills and group attitudes. Students will be introduced to topspin, slice, return of serve and have match play.




Future Stars (ages 10 - 14)
Students will focus on refining basic skills and work towards advanced shots with an emphasis on tactics and competitive play.




High School Excellence (ages 14 - 18)
The Focus is on preparation for high school competitive play. Increased shot awareness and mental strategy will be introduced.


Junior State League Practice & Match Play (ages 10 - 18)

We offer an opportunity for match play against other Legend players
or against other local competitions. Matches are held at Brandybrook unless otherwise noted.

June 21st - August 9th
Wednesdays 1pm-3pm | $20 per Day

Kids Learn to Play Tennis
Children will learn scoring, point play, and sportsmanship. Previous lesson experience is required.
"The finest clubs, like family traditions, trace their roots to strong contributions by individuals.
These individuals create the environment in which camaraderie flourishes and new friendships begin.
These individuals are called Members."